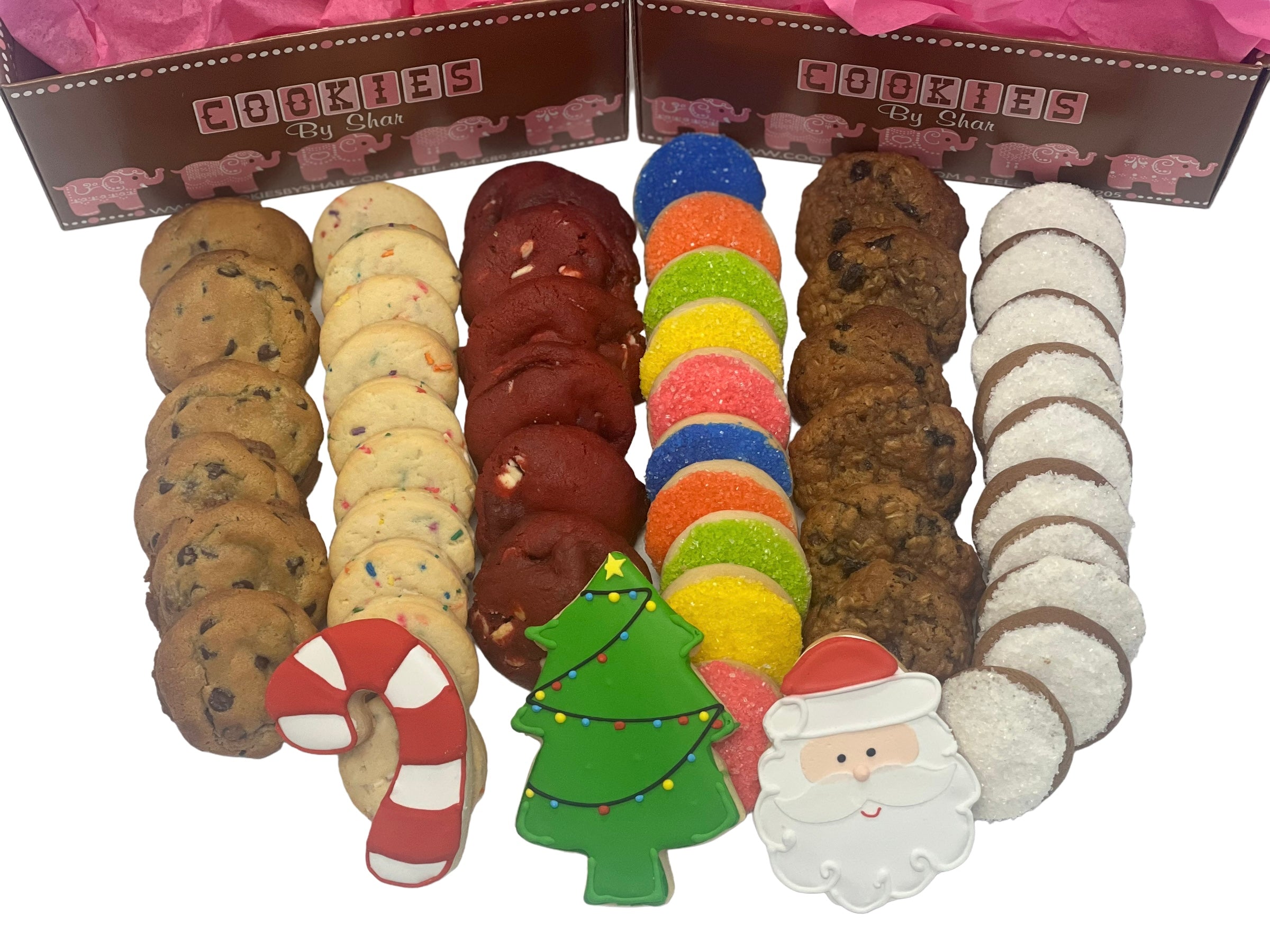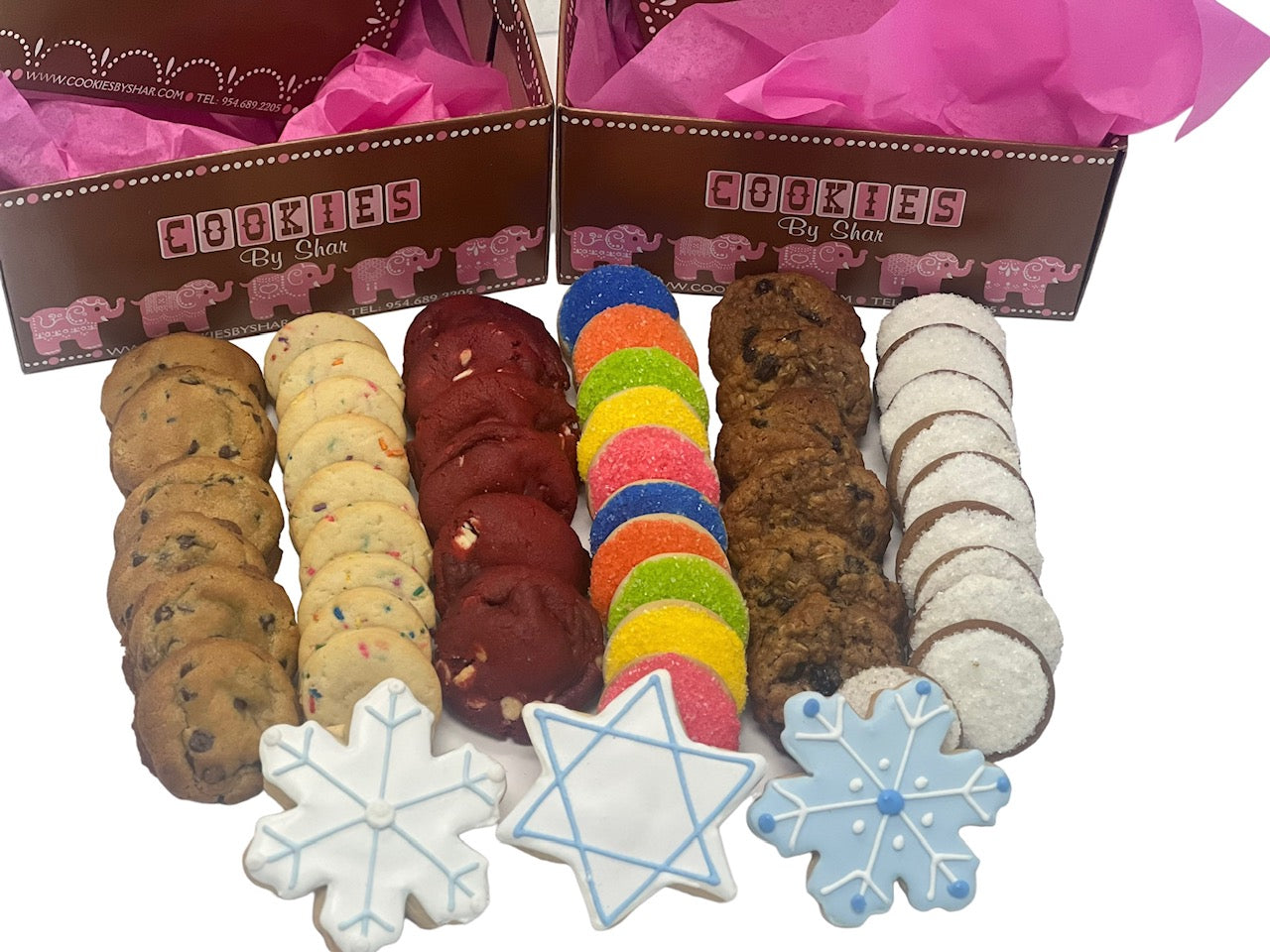 Description
COOKIE CARE
SHIPPING
**LIMITED TIME OFFER ONLY**
6 Chocolate Chip
6 Red Velvet
6 Oatmeal Raisin
10 Funfetti Shortbread Rounds
10 Gingerbread Rounds
10 Sugar Cookie Rounds
3 Large Decorated Sugar Cookies
Total of 51 Cookies
Approx. 6 lbs
**NO Substitutions allowed.
***Cookies are vacuum sealed to ensure extra freshness.
****Shipping is $12 Flat rate - 2 Day Air Service
This all comes beautifully presented in one of our custom signature gift boxes with a cookie care card. A personalized note can be included up to 60 characters. 
We BAKE AND SHIP the same day, ALWAYS!
To maintain freshness, we also Vacuum seal to provide an extra thick layer of packaging.  
WHAT INGREDIENTS DO YOU USE?
We use premium quality ingredients such as real Vanilla, Butter, Eggs, Unbleached Flour, and real Chocolate.
COOKIE TIPS:
HOW DO I STORE THESE IF I DON'T WANT TO EAT OR SERVE THEM NOW?
*As we do not use ANY preservatives, Cookies must be stored in freezer to extend shelf life, and best stored in an airtight container.
*Restore to room temperature before consumption.
HOW CAN I GET THAT "FRESHLY BAKED" CONSISTENCY?
*A GREAT tip for Chocolate chip or Oatmeal Raisin or any of the Gourmet cookies is microwaving for 10 seconds to get that warm, freshly baked texture and consistency. This will restore some of the moisture. (Heat in increments of 5 seconds, as everyone has different settings on their Microwave, to achieve desired consistency)
**BEST TIP-IF THEY ARE FROZEN, and you want to get that "FRESHLY BAKED" cookie-
1)You can preheat your oven to 350 degrees
2) Wait until it rises to temperature
3) Turn oven OFF COMPLETELY.
4) Place cookies (frozen) on baking tray in heated oven to restore moisture with residual heat until thawed
**Key lime, Gingerbread and other sugar cookies can be left to thaw at room temperature to restore, but these cookies freeze well to extend shelf life. Please do not heat before consumption.
Note: Manufactured in a facility that processes other products which may contain trace elements of nuts, wheat and eggs
**We have changed our shipping to FEDEX 2 DAY for our packages. This has been more reliable for us as opposed to some of the other methods we have used.  This service also delivers on Saturdays and in some areas Sundays.  In saying that, however, we cannot control shipping issues, and in light of Covid-19 and the tremendous volume of packages being shipped, things can go wrong and your packages can experience delays 
*We only ship Monday to Wednesday to try to proactively prevent shipping delays. Any orders received on a Thursday, Friday or over the weekend are only processed and shipped out on the following Monday.
If the package shows delivered, then you must call Fedex directly to claim with the tracking number provided on your invoice (1-800-GOFEDEX).  If delayed, it can be for a number of reasons that are out of our control.  
For more shipping info, click here. 
FAQ
HOW WILL MY COOKIES ARRIVE?
They will arrive in a vacuum sealed pouch which you can cut open and then store in an airtight container. They will NOT arrive as "Gooey" and as moist as they come out of the oven as shipping them would be very difficult. We provide a detailed "Cookie Care Card" on how to heat them to get that "out of the oven" experience. If we ship them without allowing them adequate cooling time they will stick together and be "mush". Two detailed methods are provided to achieve that "moist, out of the oven" experience.
INGREDIENTS
We use premium ingredients for all our cookies:  Flour, butter, sugar, pure Vanilla, and eggs.  We strive to bake our cookies with NO added preservatives so our shelf life is fairly short.  Once you receive your product, you can freeze it, unless you want to consume immediately.  It is always best to freeze cookies in an airtight container and thaw before you consume.
COOKIE TIPS
*Cookies can be stored in the freezer to extend shelf life in an airtight container. Restore to room temperature before consumption. 
*Another great tip for Chocolate Chip or Oatmeal Raisin is microwaving for 10 to 12 seconds to get that warm freshly baked texture and consistency or on a heated baking tray. 
We have a detailed Cookie Care Card that can explain this further and is included in every box.
*Key lime, Gingerbread and other sugar cookies can be left to thaw at room temperature to restore. These traditionally have a longer shelf life of 3 weeks.
BAKERY HOURS
We are a Monday through Friday commercial bakery. Our office hours are 8am to 2pm. For quickest response please send an email to Info@cookiesbyshar.com.  We usually reply as soon as we are in the office.  If you have an issue, please reach out to us via email atinfo@cookiesbyshar.comor call us at the bakery (954) 689-2205. We have a hard time handling issues on social media so it is best to email us for quickest response.